Reiki Level 1
For New and Renewal Students
Dates: September 19 | Time: 11:00 am-1:00 pm | Fee: $100

Reiki is a healing technique used to increase well-being, promote balance and ignite the body's own natural healing mechanism. Reiki may help to ease stress and tension and supports the body to facilitate healing on the emotional, spiritual and physical levels.
After the tensions and stress created by the changes of this last year Reiki can be used to rebalance the system, promote ease and restore energetic alignment.
A Reiki Level 1 class is a gift for yourself!  Students learning Reiki 1 for the first time or those wishing to refresh their knowledge are invited to attend. Taught by Rose Koremenos, RN, BSN, Holistic Healing Practitioner, Reiki Master Teacher, a Holistic Practitioner with over 40 years of training and experience.
Horses are amazing mentors and facilitators, and you will spend time in their calming presence for meditation and Reiki training and practice. This unique class is offered in a peaceful, safe, outdoor setting.
Why with horses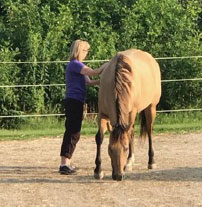 Horses offer a unique opportunity to learn about relationships, communication and leadership. And they are amazing mentors and facilitators. Add horses to meditation, healing work or reflection and find peace, calm and revitalization. Our horses spark connections to inner knowing and change. This gives us the opportunity to begin to think, respond and react in a new way. Working with horses provides opportunities for learning life skills such as trust, respect, honesty and communication.
This class can be purchased here through PayPal. Purchasing the Reiki 1 class here automatically registers you for the class.

SORRY, CLASS IS FULL. REGISTRATION IS CLOSED.

Registration required.
Location: Creating Pathways Farm, N87 W22349 N Lisbon Road, Sussex, Wi 53089.
If you prefer to pay at class or another way, please register by emailing [email protected] or calling 262-424-5885.