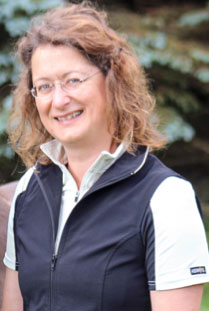 At the age of four I was sitting for the first time on a horse – and never gave up being with horses since. Horses became the passion of my life.
I started my equine education in Germany on warmbloods in mostly dressage and some jumping. In 1988 I passed my first instructor test with the German Equestrian Federation. The master trainer was Egon von Neindorff and the focus was on groundwork such as lunging, dressage, jumping and instruction.
Shortly after that I was introduced to gaited horses – Icelandics and Mangalarga Marchadores, and was fascinated! A fourth and sometimes even a fifth gear (gait) – oh my!
In 2001 I got certified by the German Icelandic Horse Association (IPZV) as a Trainer B. Over the years I always was and still am working on improving my knowledge and learning better ways to teach, train and assist people on their journey with horses.
In 2004 I obtained my certification as "Horse Assisted Educator / HorseDream Concept" with Horse Dream®. The focus was on Equine Assisted Professional Development.
Besides my fascination and work with horses I attended "Hochschule für Medien" College in Stuttgart Germany and graduated 1994 with a Bachelor in Business Management and Business Engineering. I worked for nearly 15 years in the corporate world in management positions in Sales and Customer Service departments with companies like Addison Wesley Longman and The German Postal Service (Deutsche Post AG).
In 2007 my dream to live and work in the United States came true – I moved here and was working on a horse farm. In early 2009 I founded my own business as a traveling horse trainer. Since then I have been traveling all over the US to do clinics, lessons and training. I also have been teaching German at a private high school since 2010. I have been studying Natural horsemanship since 2004 as well as energy healing techniques and animal communication. In July 2017 I obtained my certification as EAGALA Equine Specialist for Equine Assisted Therapy and was able to start working with Creating Pathways Farm. It is very exciting for me to have the opportunity to assist people on their journey to physical, mental and spiritual healing. Horses are by nature non-judgmental and genuine in their interactions, thus making them perfect therapists and facilitators of therapy and learning sessions.
My focus is on teaching horses how to build partnerships to humans as well as assisting my clients on their journey with horses. Relationship comes first, the journey is the reward. I believe that horses can teach us a lot, if we are open to listen to them.