Sydney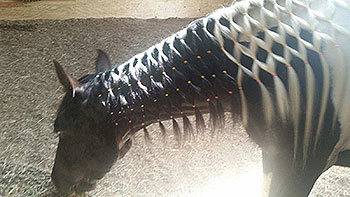 Snapshot Pocahontas
Black and White Mare
Birthday: June 12, 2013
Breed: Spotted Saddle Horse
Sydney was born in Kentucky and is half-sister to Lexi.  Sydney is very curious and one of her favorite things is checking out everything! She enjoys the challenge of playing at liberty and is currently learning natural riding.
Lexi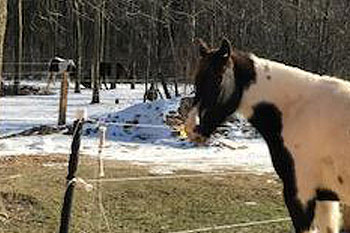 Snapshot Sweet Lucky
Brown And White Mare
Birthday: May 2, 2013
Breed: Spotted Saddle Horse
Lexi was born in Kentucky and is half-sister to Sydney. Lexi was very timid when she came to CPF and has now decided that people are interesting! She has shown an interest in quiet play with people, being groomed and spending time just being with people.
Diva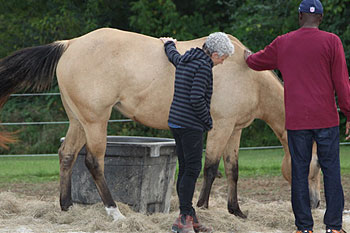 Registered Name: Woody's Buttermilk
"Diva"
Buckskin Mare
Birthday: April 11, 2002
Breed: Registered Quarter Horse
Born in South Dakota Diva was Rose's first therapy horse of this group. Diva was naturally trained in dressage and is able to be ridden by breath or sight or thought.  Diva also enjoys playing, dancing and soccer with a large gym ball. Her favorite pastime is hanging with people, being brushed or grazing.
Rizzo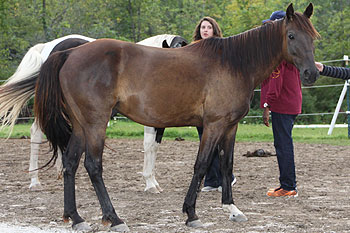 Registered Name: So Reserved
Rizzo
Brown/Black Gelding
Birthday: March 27, 2008
Breed: Standardbred
Born in Louisiana, Rizzo was trained as a harness racer.  He was raced in Florida, Ohio and Illinois until he retired in 2016.  Rizzo's previous owner had paid a fee so that when he was retired he would be sent to a Standardbred rescue to be cared for until he was adopted. He ended up with Racer Placers in Wisconsin. He was adopted and brought to live at CPF in February 2017.
Rizzo has learned to enjoy hanging out with people and being part of our herd.  He has learned natural horse play and riding skills.