Equine Assisted Therapy
Equine-Assisted Therapies (EAT) have been recognized in the medical and mental health fields by most major countries.
Horses are used in animal therapy because they give immediate feedback and are perfect mirrors. Horses' large size assists people in learning how to gain trust.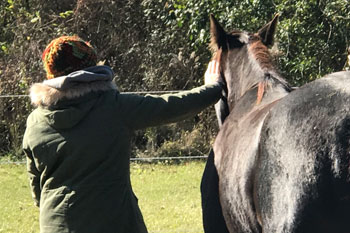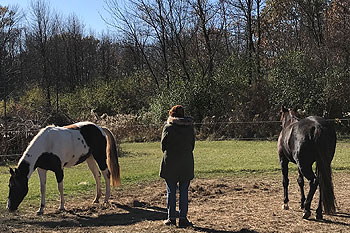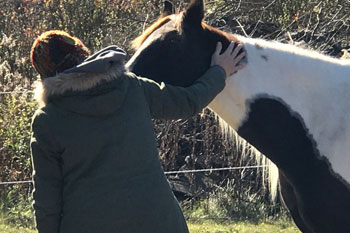 Before Your Appointment

Our staff consists of Equine Specialists and Mental Health Professionals who work in teams. A screening call with a team member will help to identify needs of the client in relationship to their session. Appointment will be made at that time and can be done for individuals or groups. Clients will need to arrive promptly for appointments at the barn area. Please follow signage. See client terms and conditions (link) and forms (link) to be completed prior to initial session.
What Your Appointment Might Look Like

Appointments may take place in one of our indoor or outdoor natural setting (link to our settings). Equine(s) and our EAT team will be present with the client.
The client is free to choose to observe or to interact with the horse(s). In some sessions, a client might not even touch the horse at all. In some situations, the client may choose to interact with the horse(s). The client may also choose tasks and then discuss the thought process, ideas and problem solving used to complete the task. This encourages the client to be present and focused.
The Role of Horses in EAT

"Horses who live "naturally" and are encouraged to create partnerships with humans are compassionate and kind assistants for therapy work."
Staff of CPF

Non-judgmental and unbiased: Horses react to behavior and emotions of the client and are not biased by the client's appearance, present situation, story or history.
Feedback and mirroring: The horse as a prey and herd animal makes them vigilant and sensitive, making them keen observers. The horse's feedback is provided immediately and consistently. The horse's ability to mirror the client's behavior, physical movements and emotions, helps to create awareness of the Self.
Metaphor for real life: The possibility for the client to use the horse as a metaphor for their story helps this work to become a model for real life problems.
Please contact (link to Contact Us) a staff member for more information.
45 minute sessions
$125 Individuals
$150 Couples
$200 groups up to 4 people
$250 for groups of 5-8 people