Equine assisted therapy (EAT) integrates traditional therapy work with the unique healing aspects of interacting with horses.  At Creating Pathways Farm we work in teams according to the EAGALA model; teams include a licensed mental health specialist, equine specialist, and horses. In interacting with the horses, the focus is on your unique experience and how that relates to your concerns in coming to therapy.  This work with horses allows you to become aware of real life problems and offers real life solutions.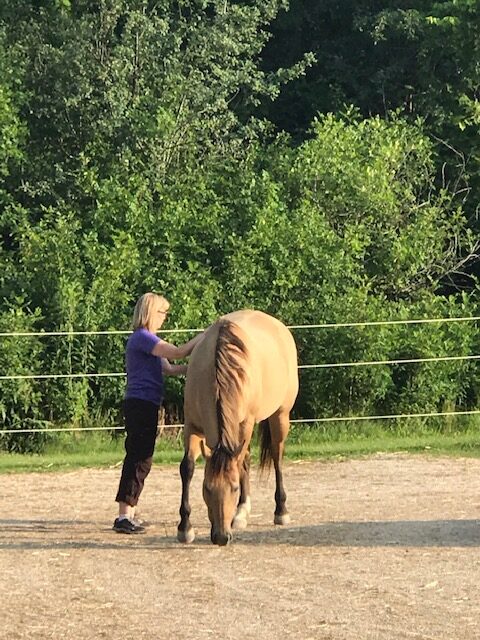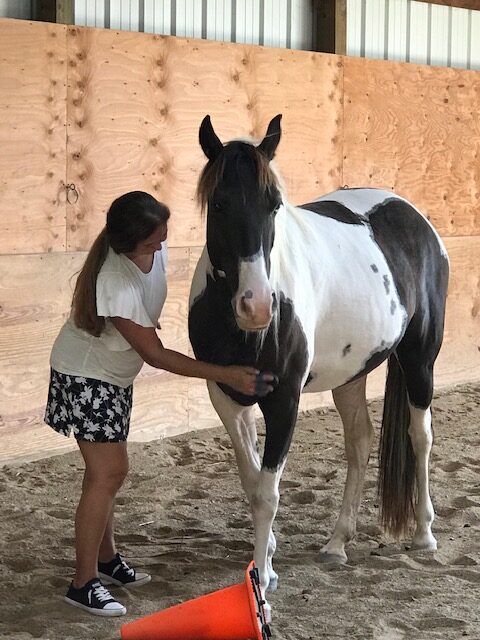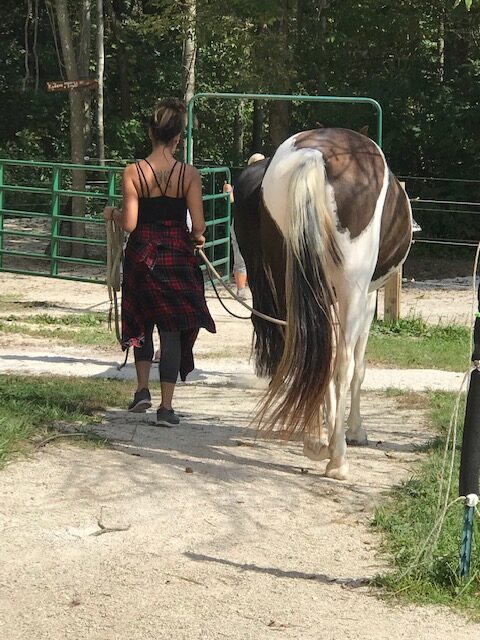 What an Appointment Looks Like
Appointments may take place in one of our indoor or outdoor arenas or natural settings. The EAT team will be present with you allowing you to have a direct experience with the horses rather than talking with us. The client is free to choose to observe or to interact with the horses depending on their level of comfort. The client might not even touch the horses at all. The client may also choose tasks such as brushing or touching the horses. The EAT team  may suggest various activities that would be helpful based on your personal concerns and issues. For example, you might move the horse through obstacles or patterns.
After your session with the horses, there will be time to review with your EAT team. This allows you to identify insights and new problem-solving skills that you can use in everyday life.
About Our Equine Partners
Our horses, who live "naturally" and are encouraged to create partnerships with humans, are compassionate and kind partners in our therapy work. The horse is a prey and herd animal — they are balanced, vigilant and sensitive, making them keen observers.  Our equine therapy partners are truly non-judgmental which helps to build trust and self-esteem.  Horses react honestly to the behavior and emotions of the client and are not biased by a client's appearance, present situation, story or personal history. As you interact with horses, their feedback is immediate and consistent. The horse's ability to mirror your behavior, physical movements and emotions creates greater self awareness. This helps to bring you more fully into mindful presence. And in that place of peace, you are free to create the relationships and the life you desire.
We welcome the opportunity to meet with you to discuss your individual needs and to create a healing space for you with our staff — including the 4 legged ones!
45 minute sessions: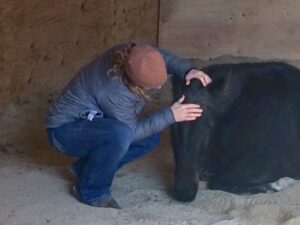 $125 Individuals
$150 Couples
$200 groups up to 4 people
$250 for groups of 5-8 people
Payment is required at the time of service.
Creating Pathways Farm accepts insurance. Clients are responsible for submitting claims for reimbursement. CPF is not responsible for determining eligibility for insurance benefits/coverage. Insurance coverage varies.
Baron's Venture is a 501c3 that supports our work through scholarships.
Contact us:
[email protected]
262.424.5885
708.296.5156
If you are a provider making a referral, please click the Referral Form button below.
We appreciate your interest in our services. We hope many of your questions have been answered and look forward to speaking with you. Please click on the Contact Form button below to complete the following Contact Form. One of the (human, not equine) staff at Creating Pathways Farm will get in touch.