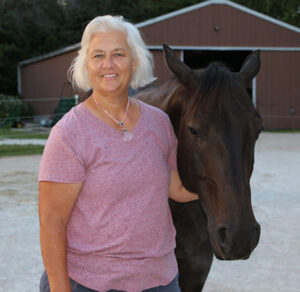 Rose Koremenos, RN, BSN, Certified Holistic Healing Practitioner, Reiki Master Teacher, Transpersonal Development Specialist, Certified Equine Specialist. Over 40 years of studies in many holistic practices and 30 years in holistic practice seeing clients and teaching groups.
Horses, Horses and Horses!
I rode my first horse at 6 months old.  My parents took a picture of me on a pony that they would bring through the neighborhood and take children for rides.  There is a smile on my face. I began riding at age 6 and by age 12 was an instructor for a riding school summer program. I worked to develop my skills and was involved in training and showing horses until I started college.
I returned to horses as a mom with 3 young children.  I trained a horse that was adopted from a rescue and began the journey of studying natural methods of horse development. I also decided to study and develop my riding in classical dressage. I have been fortunate to have had the ability to study with a number of natural horsemen and women.
I was working to develop horses for others and to coach horses and riders to develop partnerships when I had the opportunity to experience working with horses in natural healing methods. This blended beautifully with the world of my work as an integrated care practitioner.
I believe in the healing power of nature and relating with animals. I have found the grace, beauty and power of the horse continues to amaze me. I have spent most of my adult life working with others to develop skills in natural horsemanship, healing work for animals and developing animal partnerships.  Through the years, I have developed programs and classes related to horsemanship, growth and development and training for groups. I lead corporate trainings and leadership development programs. I develop retreats, meditation programs and a variety of horse facilitated classes and trainings at the request of groups or work teams.
Energy Therapies and Transpersonal Development
I have studied energy therapies and personal growth for over 40 years.   I am a registered nurse, certified holistic healing practitioner, and have trained in breath, sound and movement therapies as well as injury recovery, release work and other energy therapies.  I am passionate about learning and teaching.  One of the areas of focus for my work with others is Transpersonal Development.  The transpersonal self is that self which transcends time and place, connecting us to our divine, the one, the all. Transpersonal development is exploration of that Self and strengthening the mind-body-spirit connection.
I am owner of RAK Energywork, LLC and Co- Founder of Free Spirit School of Integrated Energy Healing.
Blessings! Rose
Creating Pathways Farm: Beginning
In late 2016 there was a huge decision to be made on changing life course and my husband and I moving to this property.  The land was overgrown and yet was truly a hidden treasure waiting for the opportunity to begin it's work.  Opening up the potential and beginning to develop the framework for CPF was assisted by a sponsor's gift. A dedicated team began to meet and formulate a plan for beginning. Before our work on the physical setting was completed we were presented our first opportunity – a request to host camp days for children from the inner city. The physical work began to shape and create a haven for others.  Fences to house horses, building out the barn to use for horse work, hay was stacked, the horses arrived, staff pursued additional professional training and Eagala Certification were completed. A bridge, tree deck and pond deck were built, trails cut and tracks created, beach area cleared, new friends were made, horses were developed into partners and… the people came. Classes, retreats, corporate programs were scheduled.  Teaching others about Equine Assisted Therapy as well as offering sessions for individual clients gave us a chance to share our skills with others. And with each event, amazing magic began to happen between horses and humans.  Every client session, group gathering, class or event, and teaching opportunity produced many unique learnings and aha moments. I am so grateful to be part of this journey.  I invite you to join us and walk the path towards your center!