Personal Growth and Development
Are you asking yourself any of these questions?
Who am I? What is my purpose? What am I going to do with the rest of my life? How do I move forward? Why does this always happen? What do I connect to? What do I believe in? How do I break my patterns and loops of behavior?
Creating Pathways Farm (CPF) offers a variety of classes to explore these questions. These classes are stepping stones to stimulate the mind, body, spirit connection and facilitate personal growth and development.   Our staff facilitates learning using safe, fun activities while encouraging you to respect your level of comfort. Some of the ingredients we bring together for our classes are: horses, nature, mindfulness, movement, centering, grounding, crystals & stones, aromatherapy, breathwork, journaling….
Personal growth and development is the ongoing process of understanding and developing oneself in order to achieve one's fullest potential. Personal development is a vital part of a person's growth, maturity, success and happiness. It is the foundation of emotional, physical, intellectual, and spiritual health.
Why Do People Come To CPF Classes
Our horses spark connections to inner knowing and change. Working with such a large and powerful animal allows the development of self-esteem and self-confidence. Through interactions with our horses, participants learn self-awareness which helps to reveal patterns of behavior. This gives us the opportunity to begin to think, respond and react in a new way. Working with horses provides opportunities for learning life skills such as trust, respect, honesty and communication.
CPF staff has extensive training and experience and promotes a safe learning environment for all participants.
Classes may include interaction with horses on the ground.  No horse or riding experience necessary. Participants are encouraged to respect their own comfort level and boundaries.
Class participation requires appropriate dress for the weather and sturdy shoes or boots.
Registration is required for all classes.  Payment is required to register. Class sizes are limited.
Please be sure to check in often as classes are added frequently.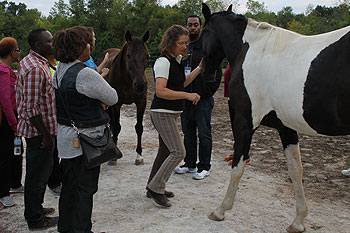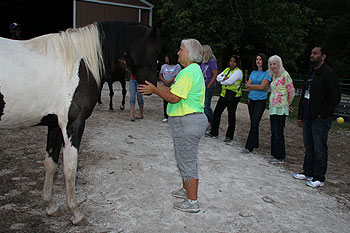 Wisconsin statute 895,526
Under Wisconsin law, an equine activity sponsor or equine professional is not liable for injury to, or the death of, a participant in equine activities resulting from the inherent risks of equine activities.
We appreciate your interest in our services. We hope many of your questions have been answered and look forward to speaking with you. Please click on the Contact Form button below to complete the following Contact Form. One of the (human, not equine) staff at Creating Pathways Farm will get in touch.